This article first appeared in the November 2012 edition of Canadian Packaging
In Canada, one person's cookie may be another person's biscuit, but such simple generalizations are of little use to the folks running Group Biscuits Leclerc Inc., a Quebec-based family owned baked goods manufacturer who have a long, proud history of producing high-quality biscuits and granola snack products.
Launched in 1905 by François Leclerc, Biscuits Leclerc is still owned and operated by the founding family, baking and packaging the Leclerc label's seven different cookie brands: Celebration, Praeventia,Vital, Choco, Quattro, Tradition 1905 and Momento, along with three additinal snack brands: Essensia, Praeventia and Chocomax. Each cookie and snack product provides multiple flavor varieties.
The company's reputation as a leader in the Canadian baked goods industry, along with the company's humble origins—with the business originally run from out of the back of the family home in Quebec City—keeps the current management team firmly rooted to the ground and in touch with the changing tastes of its consumer base.
"Our origins may be humble, but the freshness – and especially the great taste of the products – quickly had people clamoring for more," vice-president of engineering Réjean Lepage told Canadian Packaging during a recent interview.
"Right from the beginning, though, Biscuits Leclerc has always sought to diversify its products," explains Lepage, "by packing the cookies in decorated tin containers, and even supplying general stores with dispenser boxes so that people could purchase the cookies individually, if they wished."
After a fire destroyed the first facility in 1931, the company quickly rebuilt in a local three-story building and created its first real assembly line.
By the 1980s, Leclerc needed a larger facility to meet growing demand moving in 1986 to its current digs: a 700,000-square-foot HACCP (Hazard Analysis Critical Control Points)-certified facility in St-Augustin-de-Desmaures on the outskirts of Quebec City. Soon after, Biscuits Leclerc opened up another facility in Hawkesbury, Ont., along with a second plant near the Quebec headquarters to produce snack bars. More recently, it acquired a pair of U.S.-based plants in Montgomery, Penn. in 2002 and Kingsport, Tenn. in 2008.
Today employing over 700 people across the five facilities, Biscuits Leclerc is headed by its third generation of family: chairman of the board Jean-Robert Leclerc, and his son and chief executive officer, Denis Leclerc.
Not only has the Leclerc family managed to create a loyal cadre of customers clamoring for its baked goodness—four of its top five best-selling brands are from the Celebration cookie series – but it has also managed to build one of the largest agrifood warehouses in Canada and create one of the most highly robotized facilities in the Quebec agrifood sector.
"Biscuits Leclerc generally operates with two shifts a day and five days a week," says Lepage, "but, depending on the time of year, we can ramp things up to work 24-hour days."
Along with its own flagship brand of Biscuits Leclerc products, the majority of its business is derived from third-party contracting for a number of national retail chains, such as Loblaw, Costco and others, to bake and pack cookies for their no-name brands, helping the still-growing company pull in a sales volume of about $280-million annually.
In fact, Biscuits Leclerc is the largest co-packer of granola bars and baked cereal bars in Canada.
Lepage says: "While the company has always done well, getting involved with the third-party contracting business has greatly helped our sales and further increased our good reputation in the industry."
Perhaps because birds of a feather flock together, Biscuits Leclerc is the type of company that expects great things from its employees and from its suppliers, noting that it prefers to hire only workers who have invested in themselves with post-secondary education.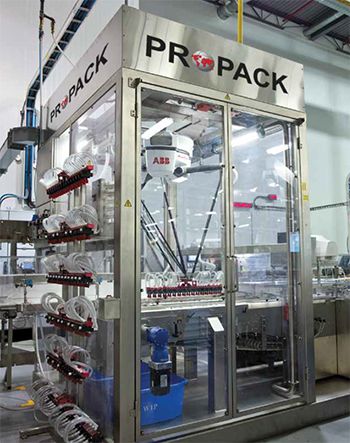 Lepage says that Biscuits Leclerc is always keen on utilizing the services of an equipment manufacturer who can supply them with cutting-edge technology that works for them, which is why Biscuits Leclerc has developed a keen bond with Propack Processing & Packaging Systems Inc., a Beamsville, Ont. developer and manufacturer of high-speed collation and robotic loading of wrapped products into trays, cartons or multipacks.
"We're not a cookie-cutter outfit with cheap equipment," proclaims Propack president Chris Follows. "We pride ourselves on building a high-quality machine utilizing high-quality components that not only meets a customers current expectations, but future ones as well."
Lepage says the Propack-Leclerc business relationship is not based solely on loyalty to an existing client, but rather built on Propack's dependability to consistently manufacture quality equipment.
As a trusted supplier, Follows says that Propack has provided a whole slew of equipment to four of the five plants:
two LJ TRT loaders to the Hawkesbury facility for packing breakfast bars into cartons;
two LJ TRT robotic loaders—one dual- and one single-feed—to the Quebec City cookies plant packing cookies into a 200-count carton for commercial supply, and an eight count carton for retail;
one dual high-speed TRT/TRT robotic product collator and loader for the Quebec City snack bars plant for moving Leclerc granola bars at speeds up to 650 bars per minute;
one single-feed SRT robotic top-loader, shipped to the Montgomery facility packing snack mixes into cartons.
According to Follows, his customers have rated his LJ robotic loaders as requiring the least amount of maintenance due to its rugged construction.
"Our machines are designed to run at a highspeed rate, 24-hours-a-day," states Follows. "We even have equipment in the confectionary bar sector that continues to run at a rate of 800 bars per minute, three shifts per day, for the past 11 years."
Says Lepage, "Despite the complexity of the robotics projects, working with Chris Follows has always been a very good experience for us.
"Whenever we wanted to install a new Propack robotic system, we would first meet with Chris at the specific site and then we would analyze our needs, taking into account such things like the feed-rate, layout of the plant, size of the products and cartons, and indexing time. "Next, Propack's engineering department would talk with the Biscuits Leclerc project manager to ensure we understand the complete line and all of the conditions we need the machine to perform in order to be successful. We also look at speed and product tolerance and discuss any variance in products."
Lepage says that because Biscuits Leclerc required a lot of technical support for the startup, Propack would always offer to come to the factories—ensuring that training was provided in the French language for the Quebec facilities—to train the mechanics and equipment operators.
"At the same time, Propack would help us set the equipment parameters, fine-tune the robotics and provide any and all assistance as required," notes Lepage. "It was and continues to be an exceptional partnership with them."
Follows says that collaboration and communication between his company and customers like Biscuits Leclerc is critical. "We want them to know that we will always be there for them, and all they have to do is call us at any time of the day or night, and they can talk either to myself or to another technician, and that we'll resolve it over the telephone or onsite if necessary."
When the Biscuits Leclerc snack bars facility in Quebec decided to replace a key piece of packaging equipment in its bakery in 2011 by adding a new robotic loading device, Propack again was there to make it happen.
"We were looking to purchase a dual input unit to ensure a prompt release after bars were placed into a corrugated carton, because we wanted to avoid an existing problem on the line that was causing a bottleneck," explains Lepage. According to Biscuits Leclerc's Eric Roy, the engineer responsible for the integration of the new equipment, "We were quite excited by the possibilities offered by the Propack LJ TRT/TRT, because we found that this machine offered us technology not generally found on the market."
Installed back on March 2011, Roy says the LJ TRT/TRT has an advanced laser bar inspection and reject system that enables Biscuits Leclerc to use many different types of reflective foil film without requiring any readjustments during a changeover.
Roy also cites the cell's ability to process WIP (work in progress) as required from the flowwrapper, so that it can be repackaged automatically on the second feed of the dual robot without the need for additional labor.
While high on the virtues of the machinery produced by Propack and their long relationship, Roy says that he and the rest of Biscuits Leclerc are still very demanding customers.
"When it comes to electronics, we only want to purchase equipment that is itself equipped with components from reputable manufacturers," he says. Roy says the system's design benefits from having all of the electronics in this LJ TRT/TRT consist of Rockwell Automation's Allen-Bradley brand components, including a PanelView Plus 1000 HMI (human-machine interface) with two languages. The control system consists of a PLC (programmable logic controller), while the motion controller and servomotors, also from Rockwell, provide the equipment with long-term reliability and easy troubleshooting.
Situated within a compact footprint of 118 x 60 inches, the LJ TRT robotic cell consists of a robotic product collator and loader—an ABB IRB 360 FlexPicker that employs articulated arms ending with a suction block.
Depending on the characteristics of the product, Propack says the cell can handle up to 900 products per minute.
The flexible robotic system can receive output from medium to high-speed wrappers, collate the product, and then load it into cartons or trays. The robot incorporates advanced design electronic motion control technology using servomotors and drives on all key functions.
Because the system has the capability to save production line recipes, accurate repeatable size changeovers can be achieved quickly, saving Biscuits Leclerc valuable production time and costs.
The 360 FlexPicker utilized in the Biscuits Leclerc facility can quickly and gently pick up 21 individual packaged snack bars at a time and move them to a second conveyor containing boxes that can hold between six and 30 individual bars, depending on the product.
"We have a total of eight box formats, all being packed at an average rate of 500 bars per minute for twenty hours a day, five days a week," says Lepage.
While Biscuits Leclerc certainly has a need for speed, Lepage says it was not the only important factor considered when purchasing.
"Given the volume of production in question, we did need some especially high performance equipment," he says. "But of what use is speed if there is no efficiency? Efficiency is very important to us, and Propack has repeatedly proven to us that we made the correct choice, as the effectiveness of the robotic system is close to 100 per cent."
Other equipment in the Quebec City snack bar facility includes:
an Anritsu X-Ray inspection system;
a Loma Systems LCW 3000 checkweigher;
a Domino S-Series Plus high-performance scribing laser coder;
a ProBlue 7 hot-melt adhesive application system from Nordson to seal snack box paperboard packs;
a Meca-Pac case former utilizing SEWEurodrive motors;
a continuous f lowwrapping machine from SIG and a Sapal wrapper, supplied by Charles Downer & Co.;
a cartoner from Bradman Lake;
a Fanuc palletizing robot featuring Festo pneumatics;
ABF conveyors;
corrugated cartons converted by Norampac and supplied by Ling Quebec;
flexible foil film from Printpack, for individually wrapping flowwrapped granola bars;
cookie trays supplied by Tilton and flowwrapped with clear film from Multi-Plastics.
"I've been working with Biscuits Leclerc since 1997," relates Follows. "In fact, I sold them my first ever robotic system, a dual cell system that worked at a speed of 400 packs per minute at the Hawkesbury facility."
The increase in production line efficiency from the new robotic cell installed at the Biscuits Leclerc Quebec snack bar plant—along with the other efficiencies gained at the other plants have shown Lepage that Propack is a supplier that can be trusted to provide the right equipment for the right job.
"For us, it's not just about utilizing equipment that will help us now; it's about also helping us for future growth," sums up Lepage. "We feel that we are now perfectly positioned to increase our output as the need requires.
"And with our cookies and snack bars selling very well indeed around the world, we feel we are really ready to handle the increased demand."