** This post originally appeared in Canadian Packaging magazine's July/August 2016 edition **
Propack Processing and Packaging Systems Inc. is celebrating its 20th anniversary this year as a leading manufacturer and supplier of high-speed packaging machinery with a wide range of robotics technologies. Located in Beamsville, Ont., in the Niagara Region, the Canadian company is owned and operated by Chris Follows, who sat down with Canadian Packaging magazine to discuss the past, present and future of Propack and its place in the international packaging industry.
Why did you start your company 20 years ago?
Packaging is in my blood. After watching and working alongside my father, John Follows, who started Tekpak Automated Systems in 1958, I wanted to bring a new level of service to the packaging machinery business. I originally received my papers as a machinist and worked with my dad for 12 years, moving from parts to service and then to sales. After getting my feet wet in multiple levels of the company, I felt comfortable in starting up Propack. I saw an opportunity to raise the bar to a new level of service,and eventually a new level of technology, by adding robotics to packaging machinery.
Describe your business model and offerings.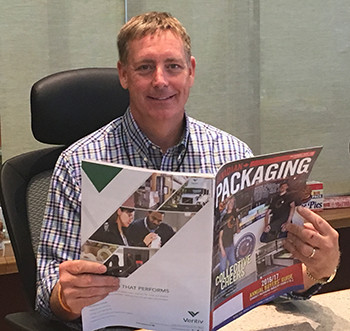 We are unique here at Propack — specializing in processing and in packaging machinery. For processing, Propack sells and services equipment manufactured in Ontario, and Quebec. For example, we have an exclusive agreement to sell for Equipments PRB, offering slab formers, particulate feeders, compression rollers, slitters, spreaders and ultrasonic guillotines. This equipment is all related to production of baked or cold-formed bars such as granola bars, meal replacement, protein bars and cereal bars. Propack's packaging offering starts with distribution systems and integration of high-speed flowwrappers that feed our world-class LJ Robotic Loader systems. Loading can be achieved via a multitude of different formats — continuous-motion cartoning, top-load cartons, multipacks, trays and bulk cases—with the ability to load any combination of two formats simultaneously. The LJ Robotic Loader, we believe, is the fastest robotic top-loader, featuring a top speed of 1,200 products per minute from a single infeed. The majority of our packaging business is generated from our dual robotic loaders, that accept product from two flowwrappers into one robotic cell. Propack's family of machines range from a low-cost a single infeed machine to our Dual Penta machine, which accepts products from five wrappers into one robotic loader feeding two streams of cartons.
What sets your company apart from other providers of packaging machinery and automation solutions?
It's the extensive knowledge within our organization, and the expertise we bring to our customers, that allows us to be more competitive in the marketplace.
What's the biggest change you've seen in the packaging of food products in recent years?
I believe it's the fact that customers have no other option than to automate, due to the competitiveness within the industry. We saw that recently with a customer in Mexico — where the hourly worker wage is close to 30 per cent of ours — wanting to purchase a fully-automated system from us to create a facility showpiece where no human hand ever touches the product. It's not just saving money on employee wages — it's about creating a more efficient production environment to meet the needs of both the manufacturers and their customers.
Where do you think packaging automation is headed in the next five years? What will be the most important drivers?
Collaborative robots will play a significant role in the future. These robots are designed to work alongside people with no additional safety requirements. The first of the collaborative robots, from ABB, is known as the YuMi robot. Sanitary design will continue to be emphasized and have an impact as well.
How is Propack positioned to satisfy these market requirements?
As a Canadian-owned company, Propack is small enough, and ideally positioned, to implement change and respond to our customers' needs. We have a continuous improvement program in place that is implemented via feedback received from our customers. That, along with our dedication to engineering, allows us to constantly improve our products. This year we manufactured and re-engineered five new machines, understanding the requirements from the marketplace to respond quickly and effectively.
From November 6~9, come visit us at Pack Expo 2016. Get free registration by clicking on the image below and come see us there!