Weight loss products manufacturer doubles down on protein bar production capabilities with cold seal wrapping and optimized line automation
By George Guidoni, Editor
Photos by Pierre Longtin
Losing excess weight and keeping it off for good is one of life's greatest personal challenges and struggles for a vast segment of population of all age groups across most of the world's affluent consumer economies, especially so in North America.
And while the lack of exercise and physical activity is often identified, correctly, as one of the main culprits for rising obesity rates and serious health risks caused by being overweight, it's no secret that sound dietary and nutritional regimen, along with correct food choices, are often the key to keeping one's body weight at healthy levels on a permanent basis.
And thanks to companies like Lachine, Que.-based Bariatrix Nutrition, Inc., North American consumers are fortunate to have the means to achieve their weight loss goals without resorting to extreme self-deprivation and sacrifice that can often cause more health problems in the end than they may temporarily remedy.
Founded in 1978 in Montreal by Thomas Egger under the Bariatrix Products International banner, the 42-year-old company is a widely acknowledged pioneer and innovator in the development of high-protein supplements and food products for effective weight management for athletes, medical weight loss clinics, professional dieticians and everyday consumers.
After filing a patent for the world's first protein bar containing more protein than carbohydrates back in 1990, the company quickly grew to become one of the continent's leading manufacturers and co-packers of protein bars in North America – producing more than 600 million bars per year and employing over 600 people by the 2000s, while expanding its distribution with the opening of a U.S. location in Vermont.
In 2004, the Egger family decided to sell its thriving protein bar business and to reinvent itself by focusing solely on the research, development and distribution of foods for medical weight management and wellness under its current Bariatrix Nutrition moniker.
After expanding into Europe the following year by forming a partnership with Bariatrix Europe in Valence, France, Bariatrix Nutrition returned to its manufacturing roots in 2010 at a new 80,000-square-foot production facility in Montreal's Lachine borough.
Soon after, Bariatrix leveraged its past experience in bar manufacturing by launching a new range of premium high-protein PROTI brand of functional protein bars in 2014.
Since then, the family-owned company has robustly diversified its product portfolio with a wide range of nutritious bariatric (weight loss) products that now include dry soup mixes; hot and cold beverage mixes; hot cereals and granola blends; protein chips, cookies and snacks; bread and pasta; smoothies and puddings; and a broad assortment of related food supplements formulated to the exacting specs and standards of bariatric physicians, nutritionists and dieticians who treat obesity in Canada, the U.S. and Europe.
With its growing contract manufacturing business for private-label brands also growing at a healthy clip, and significant capital investments carried out at the company's Vermond and European operations, Bariatrix-made products can also be found in Australia and many parts of Asia, sold through clinics and other healthcare practitioners.
Currently employing a total of 215 people and generating annual revenues of over $70 million, Bariatrix Nutrition was recently named to the prestigious Canada's Best Managed Companies list, compiled annually by financial services powerhouse Deloitte to recognize the best-in-class Canadian-owned and managed companies, for the third consecutive year.
Close to the airport and with easy access to major highways, the company's central manufacturing plant in Lachine is naturally a busy high-volume operation running a three-shift operation, five days a week, to turn out a dazzling array of premium-quality, high-protein products manufactured in strict compliance to all the pertinent NACCP (Hazardous Analysis Critical Control Points) procedures and GMP (Good Manufacturing Practices) guidelines.
Boasting the international SQF Level 2 certification for food safety, along with full accreditation from both Agriculture Canada and the U.S.-based FDA (Food and Drug Administration), the Lachine plant is actually already reaching the limits of what it can do to meet the accelerated market demand for Bariatrix products, according to vice-president of corporate affairs Patrick Egger.
"This facility has recently reached its maximum output capacity," says Egger, "prompting us to purchase another location nearby that will allow for future expansion.
"We also have a facility in Georgia, Vermont, offering the possibility of expansion should additional space be required," he adds.
For now, the 180-employee Lachine plant is operating three high-speed production lines – two for powdered products and one for protein bars – and a mixing department to turn out a highly diverse product portfolio distinguished with clean and elegant flexible packaging of varying formats and sizes, including pouches, sachets and bags.
"We currently have around 200 SKUs (stock-keeping units) consisting of various flavors, products and pack sizes," says Egger.
"Our products are typically sold in display boxes, with seven units packed inside shipping containers holding anywhere from 20 to 30 display boxes," says Egger, crediting the company's talented R&D (research-and-development) team for helping continuously expand its product offering by constantly developing new innovative, nutrient-dense products.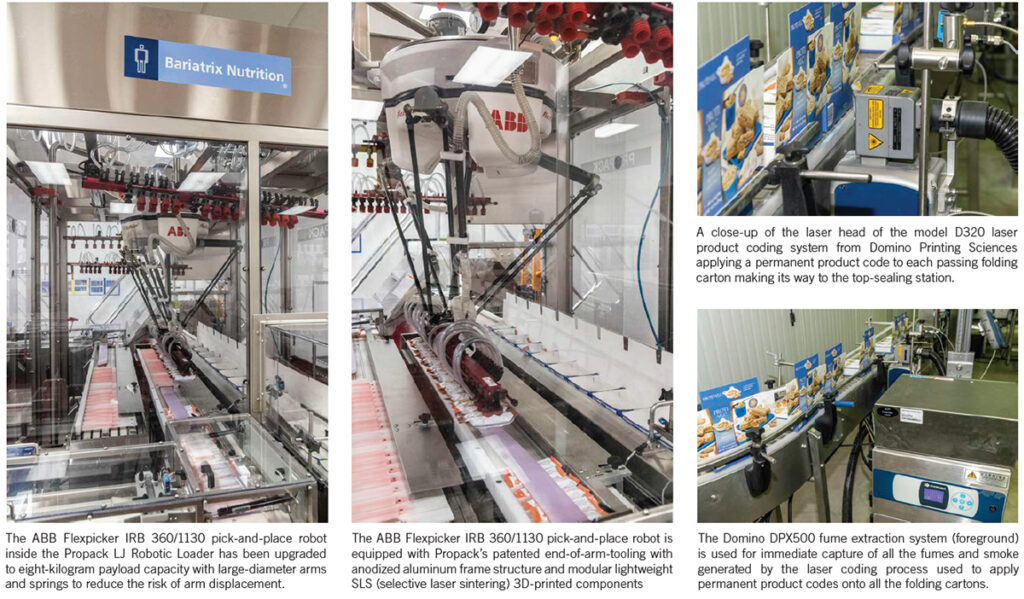 "We have always focused on R&D to ensure that our products remain at the forefront of the nutritional field," Egger told Canadian Packaging in a recent interview.
"Our world-class R&D department comprises 18 food scientists, biochemists, chemists, technicians and regulatory personnel who take great pride in the collaborative work they carry out with our ingredient suppliers," Egger explains.
"Their ability for formulate, test and develop packaging on-site provides significant client value via a shortened development cycle and speed-to-market," he states, "making us a reliable and stable business partner with a proven track record.
"Our products are usually perceived as being of a high quality in taste, ingredients, and nutrition," Egger relates, noting that the plant's quality control department boasts personnel with specialized expertise in areas ranging from microbiology to food science to immunology.
"We have highly dedicated employees and we encourage continuous training and improvement," Egger states, tracing the company's business success to keen scientific understanding of the crucial role that proteins play in effective weight loss strategies.
"Our in-depth knowledge of food functionality, texture and flavor systems ensures highest-quality product to continually delight customers – from initial launches through successive product innovations."
Says Egger: "People are generally becoming more knowledgeable with regard to the foods they are eating and increasingly looking for high quality both in the ingredients and the nutritional profile.
"There is also a strong trend towards 'clean labels,' meaning simple ingredients that are less processed and natural ingredients like stevia, instead of artificial sweeteners," says Egger, stressing the importance of offering consumers an enjoyable taste profile that they can enjoy at any occasion.
"Traditionally spring and early summer were the busiest times for us, as people were looking for diet plans to get ready for the warm weather," Egger relates. "However, with the increased attention to healthy living and nutrition we see a much more balanced demand these days, with no particular spikes in demand."
Sourcing its proteins and other raw materials from all over the world, primarily from North America and Europe, Bariatrix Nutrition is also a major purchaser of packaging materials and machinery used to package its final products.
"Packaging accounts for eight to 10 million dollars worth of purchases annually for us," says Egger. "We have always taken great pride in having attractive packaging that shows the quality of the products that we manufacture," Egger states, citing the company's extensive in-house graphic design capabilities.
"We regularly update our artwork and work hard with various leading packaging suppliers to find the latest and most cost-effective materials to show off our designs in best light."
Headquartered in Montreal, leading flexible packaging producer TC Transcontinental Packaging is one of the company's key major packaging material suppliers—particularly for the diverse array of bar products produced on the plant's fully-automated bar production line.
Produced in a broad range of single-serve sizes ranging from 29 to 100 grams, the bar manufacturing process begins in the processing area by mixing dry and wet ingredients to create a dough, alongside the preparation of various layers of chocolate, caramels and other flavored coatings.
The prepared dough blends are then brought to the line for slabbing, forming and cutting into squares, rectangles of other custom shapes to create individual bar products.
Depending on the product, the bars can than be half-coated, fully enrobed, drizzle-coated, top-layered or left completely uncoated.
"We have the capacity to make an almost endless variety of coated and uncoated bars, including layered, crisp, aerated and cereal types with toppings ranging from crushed nuts and chips to drizzles," Egger states.
For wrapping and sealing the bars on its flowwrapping equipment, the line uses high-performance cold seal rollstock packaging film produced at one of TC Transcontinental Packging's plants in Richmond, B.C.
"We started working with Bariatrix a few years ago," says Roberto Travaglini, account manger for business development at TC Transcontinental Packaging.
"Our Canadian presence in the cold seal market allowed us to work closely with Bariatrix to develop structures that would be common and readily available to them," Travaglini relates.
"This allowed us to cut the lead times for the new products significantly."
As Travaglini explains, "Cold seal rollstock packaging is used primarily for items that are sensitive to heat on the production packaging lines, including chocolate bars, chocolate covered products, and any other heat sensitive
items.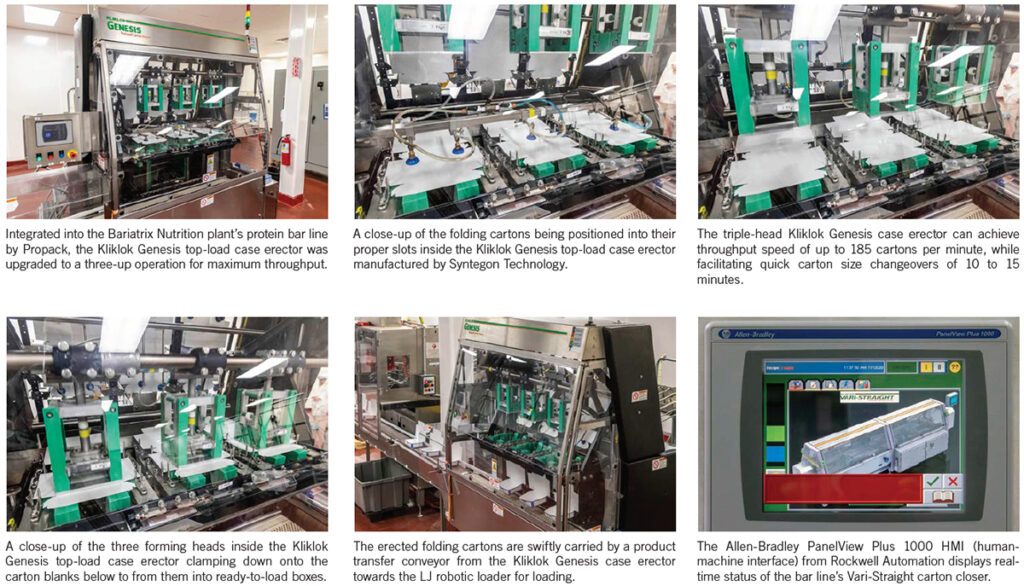 "It also allows packaging lines to run at very high speeds since there is no heat required to seal the packages," Travaglini points out.
"We have had great success with our clients and their productivity improvements, especially at Bariatrix Nutrition."
Adds Bariatrix Nutrition packaging materials buyer Diane Nutt: "The cold seal used on our packaging is superior to any we've used in the past.
"The sealing requires very little pressure," she notes, "and the strong bond enables our products stay fresh longer.
"The overall quality of TC's products is outstanding, and in the rare event of an issue, all problems are always resolved quickly and without a fuss.
"The TC technicians are even available for troubleshooting on our own production lines," she extols.
Egger concurs: "Our transition to TC for our flexo packaging materials was very smooth.

"Their team worked closely with our procurement and graphic arts departments to ensure that the quality and appearance of the finished packaging fully met our needs."
After the individual protein bars first emerge from the Thermo Flow cooling tunnel in multiple rows, they are conveyed to the non-contact Benchmark feeder, manufactured by ProMach Inc. and installed by Propack Processing and Packaging Systems Inc.
Based in Beamsville, Ont., Propack is a prominent and well-established Canadian robotic packaging systems integrator with exceptional expertise in automatic flowwrapping lines.
As Propack president Chris Follows explains, the company installed the line's first of two of continuous horizontal side-seal Revolution flowwrapping machines from Campbell Wrapper Corporation, along with the feeder, back in 2013.
"We believed the protein bars Bariatrix was producing needed a non-contact feeder, which allowed flexibility for Bariatrix to run sticky naked bars as well as the fully enrobed bars," Follows explains.
In 2015, Propack completed the second leg of the bar line's expansion by installing another Campbell Revolution flowwrapper, capable of wrapping and sealing the bars at speeds of up to 300 pieces per minute.
After wrapping, the bars move on to the Propack LJ Robotic Loader, designed to run a multitude of different carton formats, which incorporates a high-speed ABB Flexpicker IRB 360/1130 pick-and-place robot to pick up the desired quantity of wrapped bars and place them in neat rows inside the open-top cartons that are simultaneously fed inside the loading system by the nearby Kliklok Genesis carton erector, manufactured by Syntegon Technology GmbH (formerly Bosch Packaging Technology) and also integrated into the line by Propack.
As Follows describes, "The Propack LJ Robotic Loader accurately positions the cartons using four servomotors to ensure accurate and repeatable position of the cartons.
"Being a fully recipe-driven system, LJ Robotic Loader can pick up to 20 bars at once and place the converged bars to achieve the appropriate count for each carton.
"The large pick amount allows for reduced robot speeds, thereby decreasing any chance of 'missed' picks, while still achieving very high cartons-per-minute rate," Follows explains.
According to Follows, this particular Flexpicker model was the first ABB three-kilogram-load robot to be upgraded to eight-kilogram payload capacity.
"While the eight-kilo payload is not needed for this particular application, the larger-diameter arms and springs reduce the risk of arm displacement," Follows explains, adding that Propack's patented EoAT (end-of-arm-tooling) incorporated into this Flexpicker feature an anodized aluminum frame structure, as well as modular lightweight SLS (selective laser sintering) 3D-printed components an anodized aluminum frame structure, as well as modular lightweight SLS (selective laser sintering) 3D-printed components that adhere to the patented design.
"The recipe-driven functionality of the loader allows for each recipe to be optimized," Follow adds, "and changes to speeds within the LJ robotic loader can be made while running—allowing for immediately improvements in line efficiency."
Says Follows: "The Propack robotic loader has run over 371,000 hours since it was installed, and it is ready to run for another 20 years."
As for the Kliklok Genesis top-load case erector delivered by Propack, "It was the first Kliklok Genesis erector designed in a three-up format to reduce the strokes-per-minute, while maintaining the number of cartons erected to improve overall efficiency," according to Follows.
"Designed to ensure positive placement of the cartons, the Kliklok erector incorporates an innovative mechanism to pick up the carton as it is leaving the plunger section and transports the empty carton to the vacuum conveyor—ensuring positive control of the carton once erected," Follows explains.
After the protein bars are loaded inside the display cartons, they pass through a Kliklok Vari-Straight topload carton closer—designed to tri-seal top-load cartons at speeds of up to 200 cartons per minute.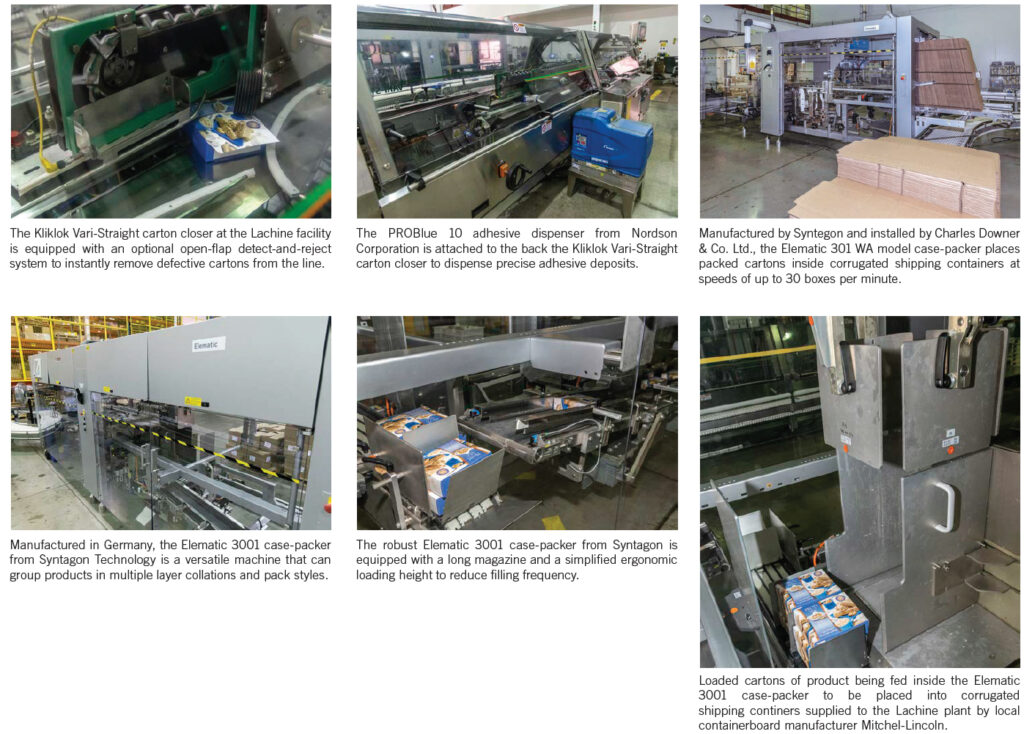 All told, the fully-integrated operation enables the Bariatrix bar line to process between 500 and 600 bars per minute, says Follows, lauding Bariatrix as "a loyal and very technically competent customer."
Says Follows: "We have worked with them since 2002, when we provided automation for three of their production lines.
"After they sold their former business and moved to the new Lachine plant, we were happy to go back and help them install a Propack Distribution System feeding a single wrapper.
"As their demand for more automation grew, we were more than happy to work with them again on completing the second leg of their bar line automation with the LJ loader and Syntegon equipment," Follows states. "The result is a world-class, highly flexible line that perfectly complements the world-class quality and success of Bariatrix products."
After the display cartons are filled with the finished wrapped bars, the product continues to flow on to the Elematic 3001 WA model wraparound case-packer, which was supplied to the plant by the Richmond Hill, Ont.-based packaging automation supplier Charles Downer & Co. Ltd.
Also manufactured by Syntegon Technology, the Elematic 3001 WA (wraparound) case-packer places the packed cartons inside the corrugated shipping cases at speeds of up to 30 cases per minute, before directing them towards the end-of-line packing area for palletizing and stretchwrapping.
According to Syntagon, the Elematic 3001 casepacker is designed to pack up to two-part display packaging inside simple trays in classic wraparound sequence, and the robust machine is engineered to set new standards for the ease-of-use, format changeovers and flexibility.
Featuring a long magazine with a simplified ergonomic loading height to reduces the refill frequency, the Elematic 3001 case-packer incorporates a high-precision hot-melt module outside of the machine that allowing operators to refill the adhesives safely inside the granulate container without interruption.
The case-packer's user-friendly Elematic Click System helps to ensure quick format changeovers on the highly flexible machine that offers a wide range of formats — grouping products in single or multi-row, as well as layer collations—and can handle a broad range of pack styles.
"This project is an excellent example of a good partner relationship," says Syntegon Technology's director of sales Bernd Bruckert. "We worked closely with the Bariatrix team and Charles Downer to develop the Elematic 3001 WA to meet all the exacting requirements and high expectations of Bariatrix.
"Thanks to the seamless collaboration, we successfully completed this project on time and the Elematic 3001 WA went into operation very smoothly," Bruckert relates.
Adds Charles Downer president Jeff Downer: "It's been a great experience working with the wonderful people at Bariatrix and having the opportunity to supply their new latest-edition wraparound case-packer. "We look forward to working with them on their next fully integrated Syntegon 'Bar Line of the Future' system," Downer adds. "I am sure our mutual efforts with result in continued excellent business for all parties concerned."
For his part, Bariatrix's Egger says that maintaining solid relationships with established suppliers provides his company with a high degree of technical competence and firm confidence in its own abilities to compete worldwide.
"The nutritional products field can be highly competitive," Egger points out, "with new players entering the market continuously trying to profit from the latest trends.
"We have a couple of main competitors in the weight loss/ nutritional supplement field and that has not changed much over the past 20 year years.
"Having reliable business partners like TC Transcontinental, Propack and Charles Downer, among others, helps us maintain our competitive edge to ensure healthy growth well into the future," Egger concludes.
"Our continuous reinvestment in our modern facilities in Canada and the U.S. ensures that our plants remain state-of-the-art, while our strict quality control guidelines, which meet or exceed GMP standards, help ensure that food safety and quality is always our primary concern."